Exotic hardwoods are an excellent choice for fencing due to their beauty and durability. The higher price over other wood options is easily offset by the longevity and low maintenance of the fence.
Most hardwoods are naturally fire, termite, decay and fungi resistant. Because of this, hardwoods are the best choice for building fences as they will be exposed to the rough Canadian elements. Their durability is derived from their density and thickness.
Premium hardwood fencing also comes in a variety of colors and grain pattern styles that are unique from other wood types. Exotic hardwoods can range in color from deep browns to rich reds to vibrant yellows. Any wood you pick will be stunning when set against the lush colors of the outdoors.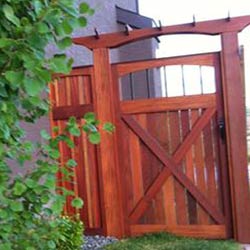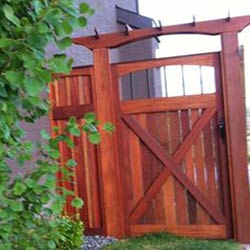 Many exotic wood species have varying degrees of grain size and shape. This will lend a unique look to your fence and will be admired from afar.
It is easy to maintain your fence since the material only requires an annual application of finish. You can also choose the no maintenance fencing option which will generally cause the wood to darken with age and develop a beautiful silver patina. Over time the wood may fade without a coat of finish but a pressure wash will keep the fence looking like new again.
Before attempting to build the fence, make sure to pre-drill holes in the lumber to ensure the wood does not crack or split. One note of caution, since this type of material is so dense, it can wear out normal tools quickly. This type of lumber is susceptible to end checking so wax the ends before cutting the board.
By choosing an exotic hardwood you are really choosing a material that combines the best strength, durability and style available. Fences that are built with exotic hardwoods will last for a lifetime so you'll never have to worrying about replacing your fence again.
Visit the hardwood products page for more information on premium hardwoods.
For more information on exotic hardwood decking products or to order, call Us at 1-888-973-0073 or use the contact form on our contact us page.