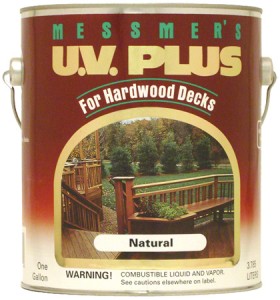 Messmers UV Plus Wood Finish for Hardwood Decks is the best choice to bring faded and weathered wood back to life. The finish both restores and protects decking wood while revitalizing its color.
Messmers offers UV Plus for Hardwood Deck stain which is the best natural wood finish for any type of exotic premium hardwoods. It is UV resistant so it will protect against fading as a result of direct sunlight. Only 2 colors (Natural and Red Mahogany) are available but the finish does have a mildew resistant coating. Each gallon will cover 200-300 square feet and the finish will last 1-2 years.
When applied, the finish does not form a surface film. There is no need to strip or sand the wood before using; simply clean the deck before applying the coat.
Messmers UV Plus for Hardwood is the best choice to protect and renew your hardwood deck.
To purchase Messmers wood finish visit messmers.com