Dark Red Meranti is a 100% clear grade hardwood that is native to Southeast Asia. Despite it's name, this wood is actually more brown in colour and is often called Philippine Mahogany. Dark Red Meranti is a popular choice due to its excellent machining properties as well as its beautiful luster.
The wood has a coarse texture with interlocking grains and its pore size can range from medium to large. Since it can be coarse, coating the wood with a finish for furniture or decks will take some time to apply. The lumber will weather down to a smooth surface as it ages even if it is not sealed.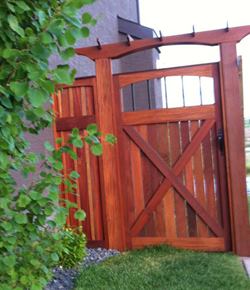 In order to achieve and maintain the beautiful mahogany look, apply an oil finish to the surface. If left untreated, it will weather into a silver patina. Even after the wood has weathered oil can be applied to bring back to mahogany look. The wood will remain strong and beautiful for decades if it is well-maintained.
Dark Red Meranti is somewhat resistant to insect attacks but is a moderately decay resistant material. The wood is easy to work with and holds on to glues, finishes and stains very well. It is mainly used for furniture, plywood, boats, cabinets, floors and decks but is not to be used for steam bending. The cost for the material is moderately priced.
Dark Red Meranti is an excellent choice for any deck or piece of furniture that will be permanently outdoors. Its durability and strength through all types of conditions are what makes it one of the best materials to build with.
For more information on this product or to order, call us at 1-888-973-0073 or use the contact form on our contact us page.